Brass & Stainless Steel Hollow Cone Spray Nozzle
The hollow cone spray nozzle features a hollow cone spray pattern with a ring-shaped impact area and sprays angles of 51-144 degree.
Spray Angle : 51-144 Degree
Spray Capacity : 0.5~60L/Min, Customized
Thread Size : 1/8, 1/4, 3/8, 1/2
Working Pressure : 0.2 Bar To 6 Bar
Connection : Male Or Female
Material : Stainless Steel And Brass
Spray Pattern : Hollow Cone
The hollow cone spray nozzle produces small to medium sized drops at a wide range of flow rates and pressures.
AA metal nozzles have outer screw thread connection, while A metal nozzles have inner screw thread connection.
AA/A metal nozzles are the ideal choice for applications requiring good atomization of liquid at lower pressures or when quick heat transfer or effective airborne droplet impingement is required.
Common Application
Gas Washing And Gas Cooling
Water Cooling
Dust Control
Metal Treading
Chemical Reaction Treatment
Other Heat Transfer Application
Standard angle hollow cone spray nozzle performance form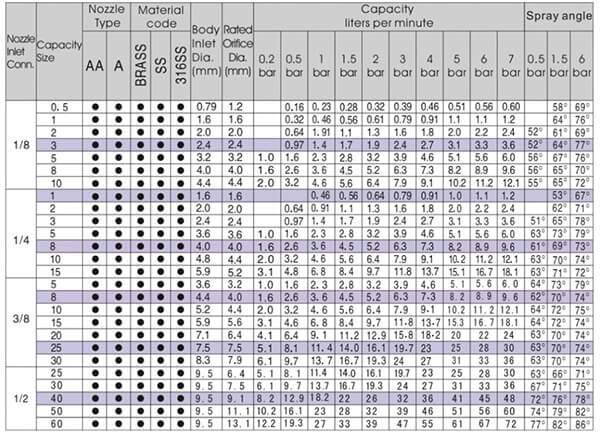 Wide angle hollow cone spray nozzle performance form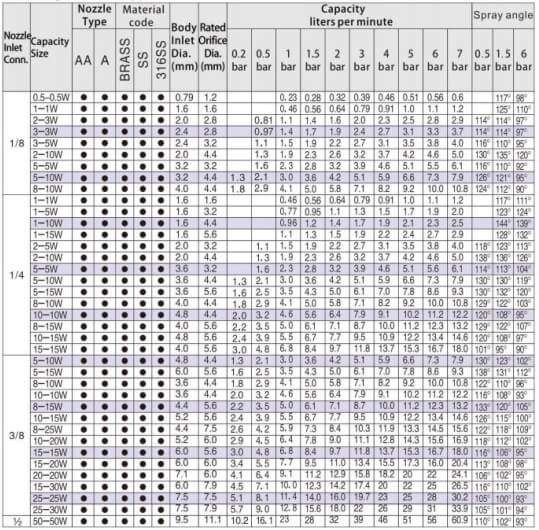 You can email [email protected] for more information, and you will get a reply within 24 hours.
Can't find your type, Directly inquiry our engineer right now!
(we will get back to you within 24 hours)