Wide Angle Full Cone Spray Nozzle
Wide angle full cone nozzles feature a solid cone spray pattern with a round impact area and spray angles between 110 to 120 degree.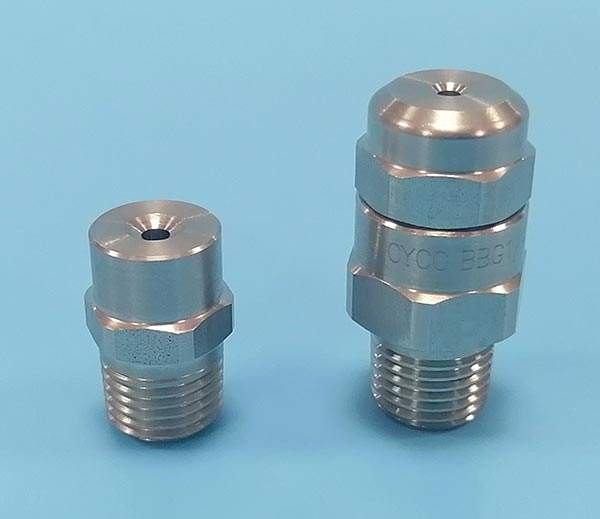 Wide Angle Full Cone Nozzle Character:
Material : Stainless Steel / Brass/ Plastic

Spray Pattern : Full Cone

Spray Angle : 110-120 Degree

Flow Rate : 0.44-7370 L/min

Thread Size : 1/8″, 1/4″ , 3/8″ , 1/2″ , 3/4″ , 1″ , 1-1/4″ , 1-1/2″ , 2″
They produce a uniform distribution of medium to large sized drops over a wide range of flow rates and pressures. They are the ideal choice for applications requiring to compete for coverage to a certain area.
With the uniform spray distribution resulting from a unique vane design and exact size, the nozzles ensure correct and dependable performance.
Common Application
Washing and drenching,exhaust gas scrubbing and cooling to remove dust and other burnt offspring.
Quenching and cooling coke,primary metal and other material,burst apart and defoaming of foaming material,spray in chemical reaction.
Dust control when transacting chunk ore,coal,limestone,sand and carpolite.
Dip the tinder and container to prevent a fire and put out a fire.
Wide Angle Full Cone Nozzle Performance Data
Nozzle Inlet Conn. (in.)
Nozzle Type
Capa. Size
Orifice Dia. (mm)
Max Hole Dia (mm)
 Capacity (L/min)
Spray Angle (°)
Standard Type
BG-W
BBG-W
BB-W
B-W
0.4
0.7
6
0.4
0.7
6
1/8
●
●
1.5W
1.2
0.64
0.57
1.5
120
86
●
●
●
2.8W
1.6
1
1.1
2.9
120
102
●
●
●
4.3W
2
1
1.6
4.4
120
102
●
●
5.6W
2.4
1
2.1
5.7
120
102
●
●
●
8W
2.4
1.3
3
8.2
120
103
1/4
●
●
10W
2.8
1.3
2.9
3.8
10.2
112
120
103
●
●
12W
3.2
1.3
3.5
4.6
12.3
114
120
103
●
●
●
14W
3.6
1.6
4.1
5.3
14.3
114
120
103
3/8
●
●
●
17W
4
1.6
5
6.5
17.4
114
120
103
●
●
●
20W
4.4
2.4
5.9
7.6
20
114
120
104
●
●
●
24W
4.8
2.4
7.1
9.1
25
114
120
104
●
●
●
27W
5.2
2.8
8
10.3
28
114
120
106
1/2
●
●
●
30W
5.6
2.8
8.8
11.4
31
114
120
108
●
●
●
35W
6
3.2
10.3
13.3
36
114
120
108
●
●
●
40W
6.4
3.2
11.8
15.2
41
114
120
108
●
●
●
45W
6.4
3.6
13.3
17.2
46
114
120
110
●
●
●
50W
6.7
4
14.7
19.1
51
114
120
112
3/4
●
●
6W
9.9
4.4
21
27
69
115
120
112
1
●
●
11W
13.1
5.6
38
49
126
117
120
117
1-1/4
●
●
16W
15.5
6.4
56
71
184
118
121
119
1-1/2
●
●
24W
18.3
10.3
84
107
275
119
124
119
2
●
47W
25
11.1
164
210
539
120
124
119
2-1/2
●
70W
31.8
14.3
244
312
803
120
125
119
3
●
95W
34.9
17.5
331
424
1090
120
125
119
4
●
188W
50.8
20.6
655
838
2157
120
125
119
Wide Angle Full Cone Nozzle Ordering Info
| | | | | |
| --- | --- | --- | --- | --- |
| BB | 1/4 | – | SS | 10 |
| ↓ | ↓ | | ↓ | ↓ |
| Single Nozzle  Type | Inlet Size | | Material Code | Capacity Size |
| | | | | |
| --- | --- | --- | --- | --- |
| BBG | 1/4 | – | SS | 10 |
| ↓ | ↓ | | ↓ | ↓ |
| Fission Nozzle Type | Inlet Size | | Material Code | Capacity Size |
inquiry to our expert (nozzles supplier & factory)