Siphon Oil Nozzles
Siphon air atomizing nozzle is a kind of air atomizing nozzle that can create the best atomizing effect under low pressure.
Feature a solid cone spray pattern with extremely fine particle size at low air pressures and low CFM.

Flow rates, spraying angle and droplet sizes can be modified, with limitations, by variations in the air.

Clog-free operation of low volume due to relatively large passages.
It is widely used in diesel oil, heavy oil, water residue oil, animal and plant oil, alcohol-based fuel combustion machine system, as well as kerosene, oil atomization.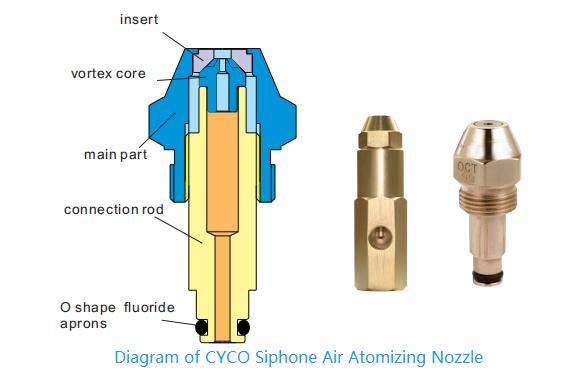 Siphon Air Atomizing Oil Nozzles Characters:
CYCO & Changyuan Siphon oil nozzles are used for atomizing oil burning. They can be customized according to DANFOSS, DELAVAN, STEINEN.
It's the best air atomization oil nozzle for spraying atomize effort in low pressure, better clog-resistance effort because of bigger flue passage, and can produce particulate oil-mist in low pressure and low air volume.
Atomizing and mixing oil droplet by using the cyclone of compressed air in the pipeline.
Small oil mist particles can be produced at low pressure and low gas volume.
Spray flow, angle and particle size can be adjusted by controlling air flow and pressure.
Large fluid channel, so there is a good anti-blocking effect.
Excellent effect in liquid atomization of oil viscosity such as, heavy oil, wast oil and combustion machine oil.
Siphon Air Atomizing Oil Nozzles Application:
For atomizing oil burning
Used in diesel oil, heavy oil, waste engine oil, wast residue oil, animal and plant oil
Used in alcohol-based fuel and other fuel
Combustion spray systems, workshop spray humidification and cooling systems
Parts cleaning and dust removal
Industrial spray products of various types
Parameter of Burner Nozzle:
Model No.
Air Pressure 0.1Mpa
Capacity Kg/h
Air Pressure 0.2Mpa
Capacity Kg/h
Air Pressure 0.3Mpa
Capacity Kg/h
Height
mm
MK-04
1.5
1
–
200
MK-07
3.6
4.5
4
200
MK-09
4
5.5
5.6
200
MK-11
5
6
6
200
MK-13
5.5
6.5
6.6
200
MK-15
6.6
9
9.5
200
MK-19
13
18
21
200
Parameter of Air Atomization Nozzle:
Model No.
Spiral Chute
Orifice Size
Insert
Air Pressure 0.2Mpa
Capacity Kg/h
Height
mm
WN-01
4 x 0.8
Φ1.2
Φ3
10
200
WN-02
6 x 0.8
Φ2.0
Φ3.2
15
200
WN-03
6 x 0.8
Φ2.3
Φ3.5
20
200
WN-04
6 x 1.2
Φ2.5
Φ4
30
200
Any question about this product, please email [email protected], you will get back with 24 hours
Reach out for an opportunity