The Development and Design Principle of Tank Washing Cleaning Nozzle
Tank and bottle cleaning nozzle has a novel design structure. The atomized uniform is even, it has features of large flow, large spray angle and not easy to block etc.
Bottle tank cleaning nozzles are designed according to the main body of the injection hole with a certain injection angle and flow. The different aperture and orientation straight injection holes design could make it reach 360 degrees or other spherical angle of the cleaning application. The tank washing nozzle can be made with different shapes and sizes according to the diameter of different cans and tube openings.
The compact tank cleaning nozzle is specially designed for effective cleaning of small compact containers.  It can be sprayed to all the inner surface. Through a standard barrel port, mounted on an automatic bucket washer, Its largest nozzle diameters  are 35 mm and 41 mm. And There is a 16 mm and 19 mm shrink neck that can drain during cleaning.
12810/19250 Series rotating bottle tank cleaning nozzle is composed of three high-impact fan nozzle installation or integrated processing on the nozzle rotating device. Through liquid pressure and different torque injection orientation design, It could achieve automatic rotation and complete cleaning of the internal surface of the tank.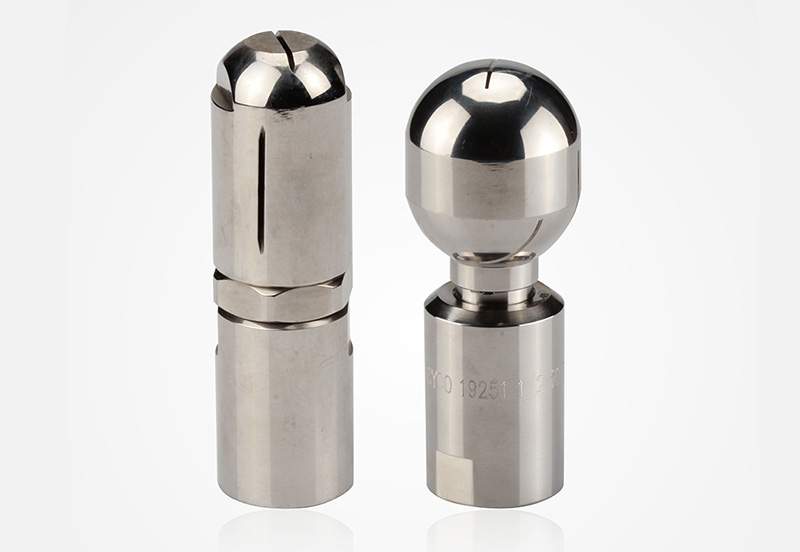 28250 and 36250 series compact tank cleaning nozzles are special designed by three fan spray nozzle heads. The can generate automatic power through hydraulic steam. The series of nozzles can automatically clean the compact tank at lower pressure than typical rotating nozzles. All of components are equipped with 316SS stainless steel bearings that could ensure smooth rotation.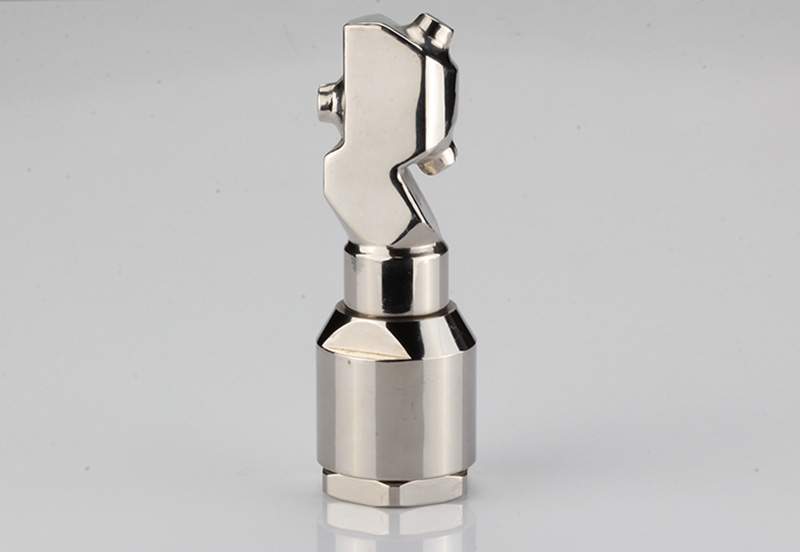 6160, 10250 series solid cone tank cleaning nozzle are specially designed with multiple spray nozzle heads assembled on the sphere to achieve a full-scale flushing application inside the tank.  It generally has 13 (or 15) solid cone (impact type) nozzles mounted on a 360-degree sphere. This type of nozzle is characterized by a large flow can be washed 3.1 meters diameter large tank. by changing the component nozzle flow to match the overall pass of the tank port diameter, it can achieve the effect of complete cleaning of the tanks.
The Latest new model CYCO-05 Rotary tank washing nozzle adopts the optimized structure design. And can produce more impact water flow than usual. The Excellent sealing design makes the leakage of water to only 3%, thus provide a more economical cleaning solution. The design of independent gearbox is adopted to protect the interior gear from damage, and can work in poor water quality with high efficient tank cleaning.
Although the bottle and tank cleaning nozzles are mainly used in the new spray tanks, and could strong cool the the Quality steel. They can also be used for other cleaning, plant irrigation, etc., The application fields are very wide.
.